---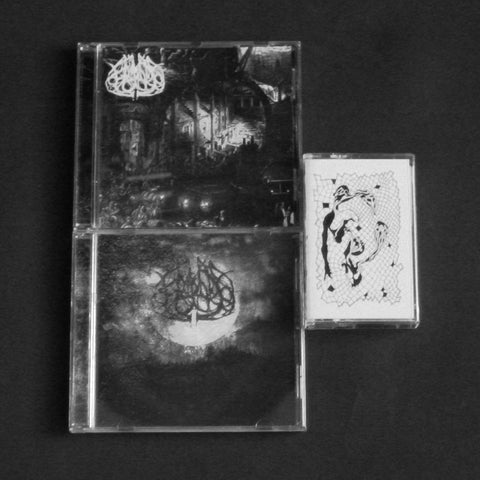 FUIL NA SEANCHOILLE "F.N.S." CD + "Hunger" CD + exclusive bonus cassette bundle
Tour de Garde
---
FUIL NA SEANCHOILLE "Ocean // Cold" MC
Covers of "Ocean" (Dead Can Dance) and "Cold" (The Cure) were recorded by Satyrign of Fuil Na Seanchoille as an exercise in dynamics while writing The Crossing, the band's second album (released August 2019 on Pro-MC by Tour de Garde / 12" LP by Me Saco En Ojo). Not initially intended for release, the tracks were re-recorded and mastered as a special edition tape to accompany Tour de Garde's CD reissues of Fuil Na Seanchoille's earlier works.
Limited to 50 copies only.

FUIL NA SEANCHOILLE "Hunger" CD
Fuil Na Seanchoille's debut album, 2011's "Hunger" sees the chaotic brutality of the two preceding demos coalesce into a cold, barren, urban sound of hopeless violence. Inspired by the concept of London City as the centre of all earthly evil, a snarling dark aggression evokes throats clutched by the hands of the usurper. Wild transcendental guitars and unhinged vocal patterns echo across a primitive tapestry of bass and drums, with the album concurrently more claustrophobic and more spacious than the earlier works. Composed over "18 hellish months spent in London from 2009-10" (Boothaevens Magazine), a relentlessly depressive vein runs through the core of the album. An almost narcotic sense of grim stupor invests each note with bitter malevolence, a wide range of dark shades present. Having transcended the influences of the early years, this is a unique expression of black metal with few peers and little-to-no sonic comparison.
FUIL NA SEANCHOILLE "Fuil Na Seanchoille" CD
An over 40 minute journey through the demo years of Irish raw black metal entity Fuil Na Seanchoille ("Blood of The Old Forest" in Gaelic), this CD collects the long out-of-print "Bitter Dusk of Futures Past" [2009] and "Demo MMVIII" (2008) cassettes, subsequently reissued on vinyl by Me Saco En Ojo in 2012. Remastered for Tour de Garde in 2019 by Jack Control at Enormous Door, these early emanations demonstrate a range of influences from Von, Beherit and Ulver to Darkthrone and pre "Si Monvmentvm Reqvires, Circvmspice." Deathspell Omega. Inspired by the history of Ireland from 12th Century B.C. until 1580 A.D., shamanic rage collides with hulking evil, channelled through a cavernous assault of primitive darkness. By turns darkly ambient and doom-laden, the sound veers from threateningly wild chaos to menacingly measured assault. Timeless black metal in the old-school tradition.