---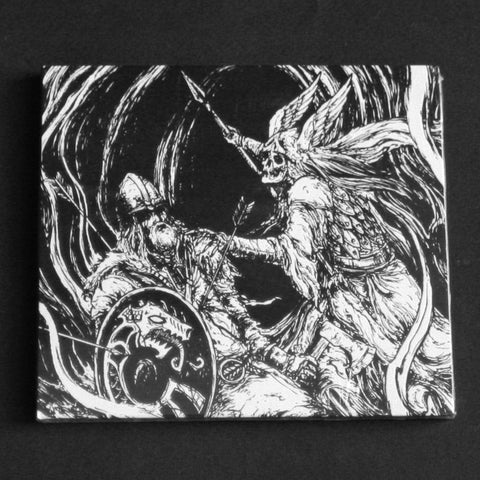 RUNESPELL "Voice of Opprobium" Digipak CD
Iron Bonehead Productions
---
Since this Australian entity's public unveiling in 2017 with the Aeons of Ancient Blood demo, Runespell has sharpened its sword and quickly, with two albums - 2017's Unhallowed Blood Oath and last year's Order of Vengeance - arriving less than a year apart. Now arrives the new full-length Voice of Opprobrium a year after the last, and the iron's hotter than even. Here, Runspell consolidates its all-too-considerable strengths, suitably balancing the grandiose melancholy vs. bloodlust axis of Unhallowed Blood Oath and the urgency and unquenchable desperation of Order of Vengeance. Similarly, mainman Nightwolf maximizes the melancholy of his now-characteristic acoustic interludes, instilling Voice of Opprobrium with a somberness that chills to the fucking bone.

And once again, underpinning everything is an authentic and austere steeping in early '90s black metal classicism. Be it from Scandinavia or France or particularly Poland, such source material has been so widely replicated year after year, and yet Runespell elusively continues to be able to both handily challenge those classics AND resound like an era-relevant relic. It's not surprising, considering Nightwolf is one of the busiest men in the shit-hot Australian black metal scene, maintaining as he does the equally prolific Eternum and Blood Stronghold. While still bearing aesthetic similarities to those two bands - this is the purest, most mystical black metal after all - with Order of Opprobrium, Runespell further solidifies its majestic rumination on the mysteries of war and bloodshed, vengeance and valor, memory and destiny. Dedication and sacrifice - spiritually, above all, as well as physically - are once again the watchwords, and they've resulted in black metal wielded as weapon, totem, and portal simultaneously.

Mesmerizing, majestic, iron-girded and iron-willed Runespell's Voice of Opprobrium is the torch to burn modernity down to the ground.